In this article you are going to see a full comparison guide between 2 popular software; Google Slides and PowerPoint, to help you choose the best for creating and editing presentations. In the navigation below, we have compared these 2 presentation tools based on different elements such as features, templates, costs, online and offline performance, teamwork and collaboration, storage and backup, as well as embedding.
So, based on their elements, let's find out which one of these 2 presentations tool is the best option for your representation needs.
Google Slides is an online and free representation program (app), included in the Google Drive service.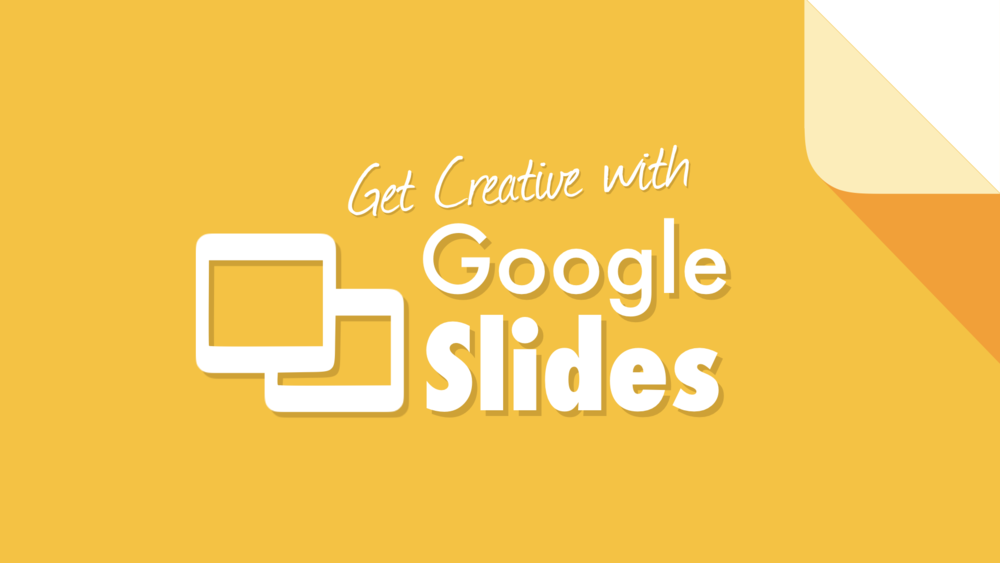 Down below you will have some of the strengths and aspects that make Google Slide a unique presentation tool.
Firstly, Google Slides was built by Google to work in your browser as opposed to directly in your device. This is a browser-based functionality that means that you don't have to download anything to create presentations. Plus, this cloud-based approach makes sharing and connecting quite easy. Being a browser-based service makes it easier to share and collaborate with any collaborator. You can do that only with an internet connection and a Google account.
Another advantage of Google Slides is their simplicity, as you know Google is famous for its iconic and straightforward homepage. The experience with Google Slides is very enjoyable, and they attempt to make it as simple as possible to utilize their product.
Microsoft PowerPoint is a powerful software that is used to create professional presentations. The first version of PowerPoint was released by Microsoft in 1990. PowerPoint can be downloaded on both Mac OS and Windows, and it comes with the popular Microsoft toolbar.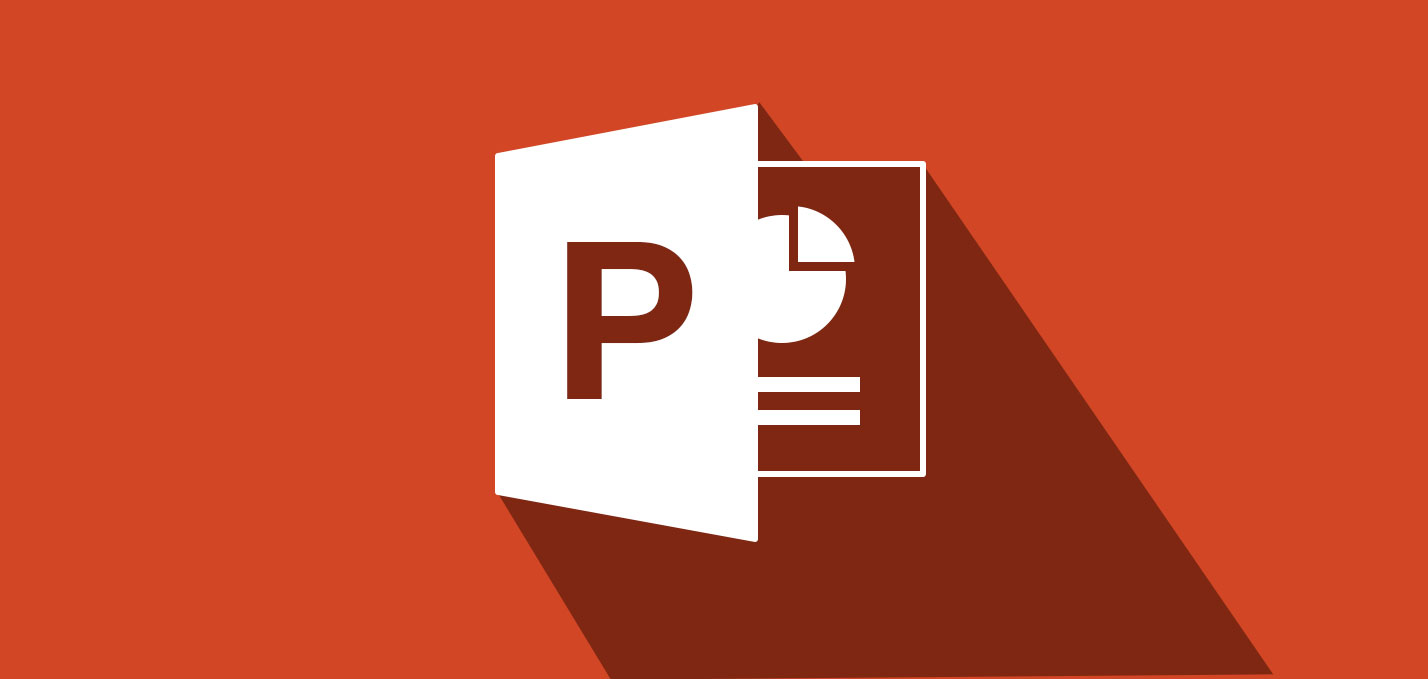 PowerPoint is broadly used, from corporate boardrooms to non-profit board meetings, as well as college classrooms. As you probably all know, PowerPoint is just a single component of Microsoft Office because it includes also Word and Excel.
Features
After exploring some of the most basic information about Google Slide and PowerPoint, it is time to take a look and compare distinct features of each tool. The first thing that is worthy to do is to note what both pieces of software allow you to accomplish. Both of them enable you to do the following:
To add text, images, videos, and links.
You can pick a custom font.
You can use a premade theme.
You are able to use charts & graphs.
You are allowed to use basic transitions.
You can print to PDF.
Plus, Google Slides and PowerPoint allow you to collaborate with team members to greater/lesser degrees.
Google Slides feature #1: Automatic Saving
It is good to know that Google Slides come with an excellent automatic saving feature for every change that you can make. So, in case that an error occurs, you don't have to worry about your progress, because everything has been saved automatically.
Google Slides feature #2: Version History
Despite their automatic saving function, Slides offers another impressive feature – a detailed version history. With that, you can easily and quickly restore your previous version of your presentation. So, if you make changes that you no longer want on your current version, you can go back to the prior presentation.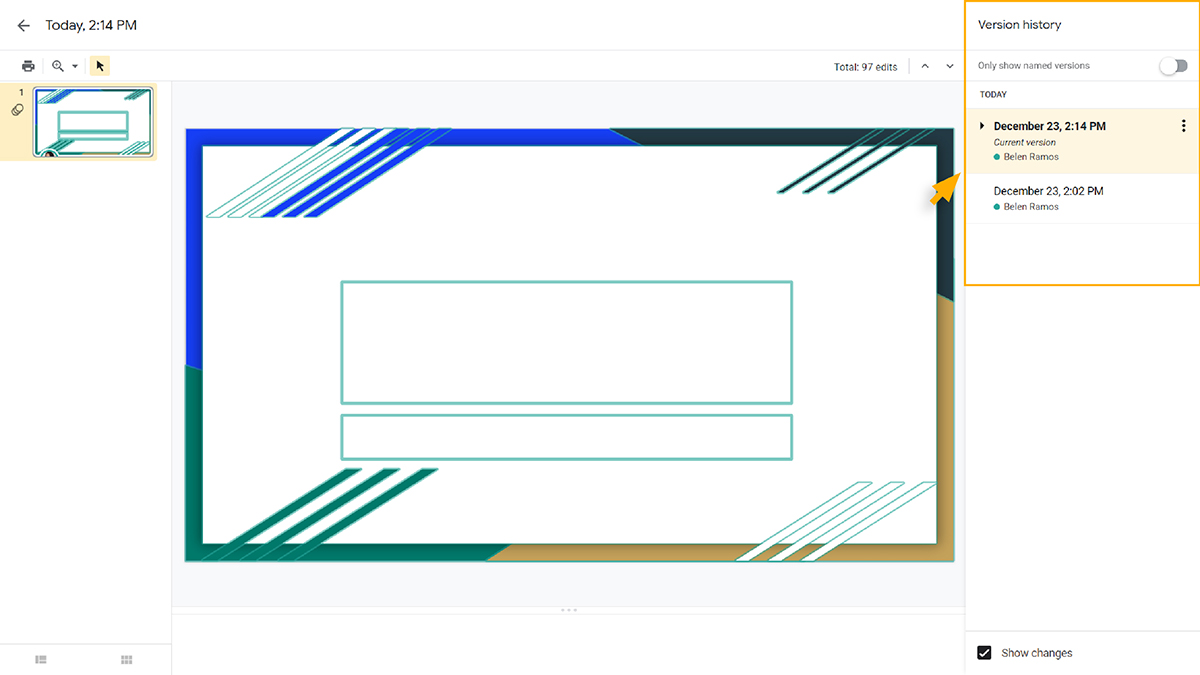 Google Slides Feature #3: PowerPoint Compatibility
Another unique feature of Google Slides is easy PowerPoint compatibility to create a presentation using their software. After creating a presentation on Google Slides you can export it as a PowerPoint file. Using Slides, you can also import a PowerPoint file and make changes to it.
PowerPoint Feature #1: PowerPoint Designer
PowerPoint Designer is a unique feature of PowerPoint that uses a suggestion engine to provide you automatic design suggestions for your slides.
For example, when you add an image to your presentation, several slide options will appear and you can select which one you want. These Microsoft PowerPoint layouts are based on principles from professionally designed slides.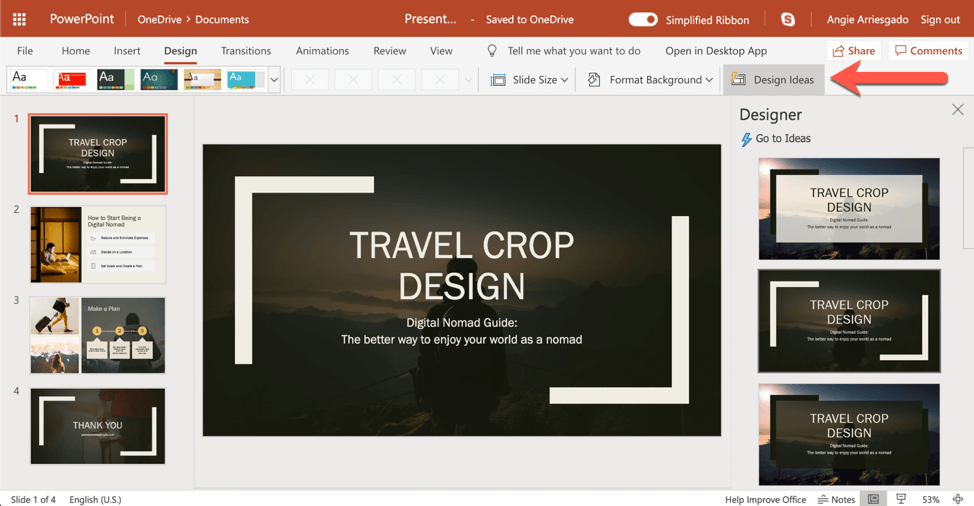 PowerPoint Feature #2: Broadcast Live
Another special feature of PowerPoint that allows you to share your slideshow in real-time is Broadcast Live. You can share your presentation with anyone through Broadcast only with an internet connection. This is done thanks to a browser-based link where anyone can view your live presentation.
PowerPoint Feature #3: Presenter View
Another useful feature of Microsoft PowerPoint is Presenter View with which you can send your presentation to a second screen. Projecting your slideshow to a second screen is a useful feature because it allows you to keep your speaker notes in front of you while your audience can pay attention to the slides.
Templates
A template is a pre-designed slideshow built to help you create a specific type of presentation. Both Slides and PowerPoint have various templates you can customize and use in their presentation software. They both have templates for different presentations such as classroom lessons, business plans, sales presentations, etc. But they also have distinctive and unique approaches to some templates that they have.
Let's see how the templates compare between these 2 presentation tools.
Google Slides has its own gallery of basic templates that you can customize according to your personal preferences and needs.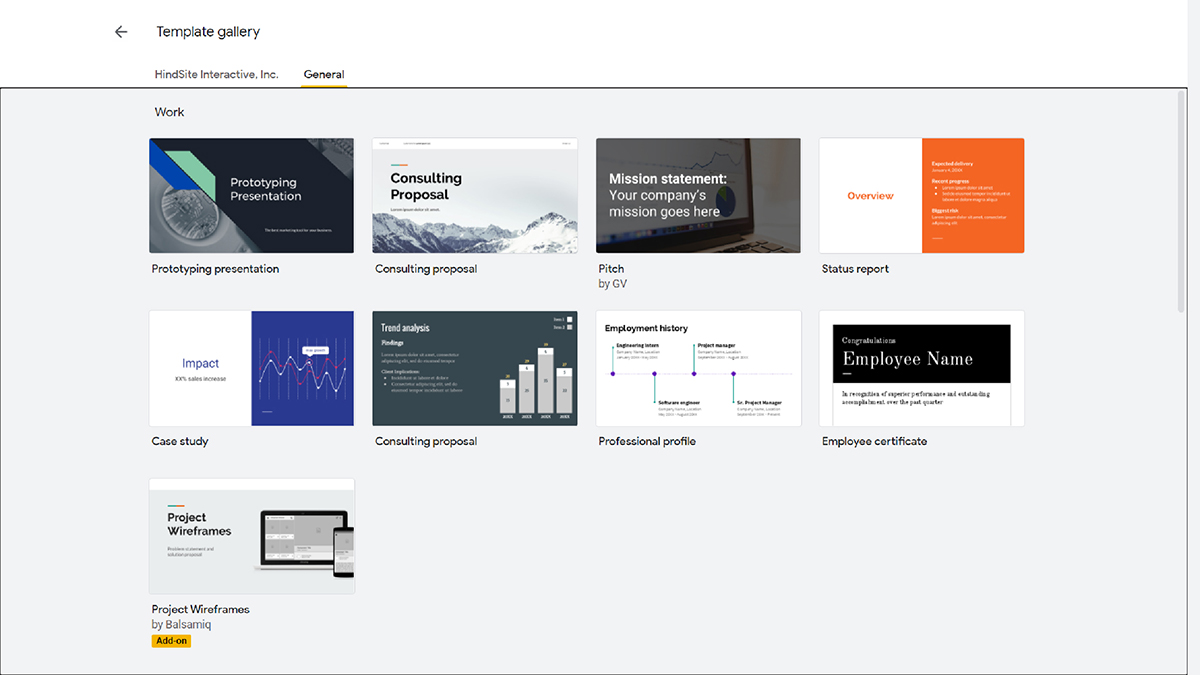 One thing to know about Google Slides is that their templates are open-source, and that means that anyone can make an editable presentation using them. You can easily design a beautiful and formidable presentation using Google Slides templates. These templates can also make Slides a dizzy presentation app that can compete with Apple products like Keynote and Microsoft products like PowerPoint.
And in case that you need help in translating templates into presentation designs, you can find different tutorials in Google on how to use Slides to stream on Chromecast.
PowerPoint offers thousands of visual elements and custom templates and you can find them in their gallery or across the web.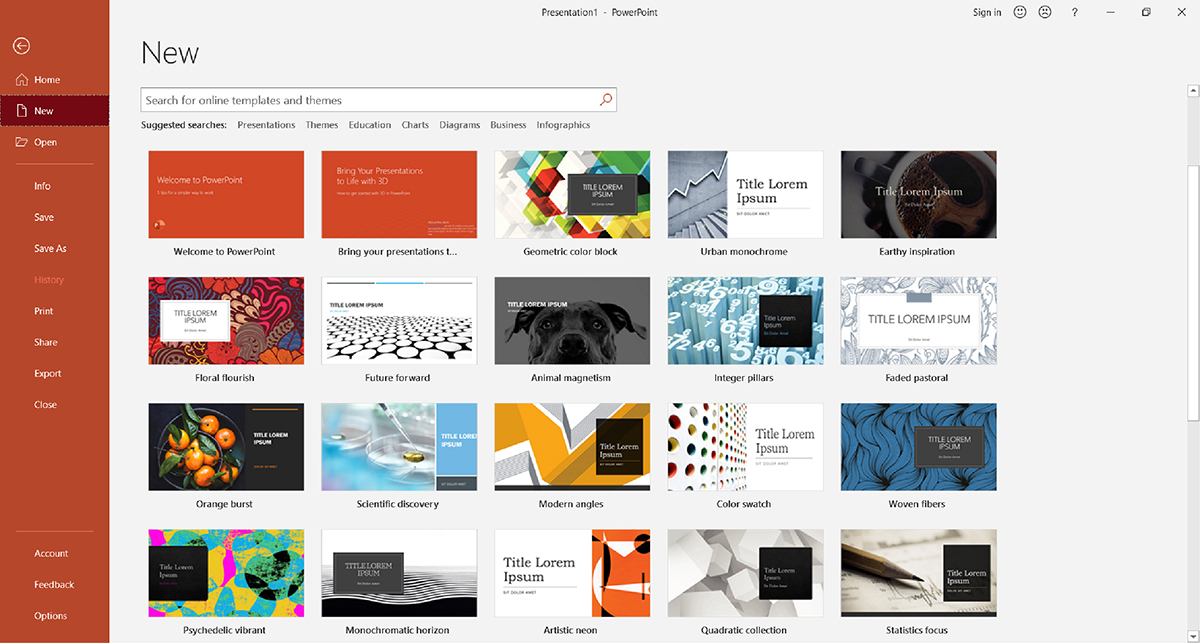 If you are looking for diversity for your presentations, PowerPoint is the right choice for you as it offers a wide range of design options. Plus, PowerPoint has fascinating custom graphs and stylizes charts that can be challenging to recreate on Google Slides.
What's more about PowerPoint is that you can create a robust presentation by just filling in the template with your visuals and copy. Many of the templates there have remained the same through the years, and even though they are commonly used, they still manage to be an excellent way to create presentations. It is good to know that Microsoft PowerPoint templates are available in many places online. Envato is a superb repository for PowerPoint themes and there are many ready-to-use templates with unique styles for different use cases.
Many designers go out of their way to create PowerPoint templates; that's why Microsoft does not force them to create templates inside of PowerPoint.
Cost
Let's find out how much they cost and make a comparison of Google Slides vs. PowerPoint.
You'll be really happy to know that Google Drive and Google Slides are completely free services and you don't need to pay to download and then use these programs. So, all the features we mentioned above are 100% free, and the free cost is one of the most important value prepositions for Google Slides. What's even better is that you can use all these features on any device that is compatible with the Google Slides app, and all you are going to need is a Google Account to use Google Slides.
If you don't know PowerPoint is most typically purchased as part of the Microsoft Office Suite, and now it is called Microsoft 365. In contrast with Google Slides, PowerPoint comes with a monthly fee that starts at $6.99 per month. What's even worse is that this price increases depending on users and team needs. Not only that, but even buying the software by itself costs $139 and it comes with no storage.
Don't forget that both PowerPoint Designer and Broadcast live are features that come included in the Microsoft Office package.
Online vs. Offline Performance                      
There are some distinctions when comparing the online and offline performance between Google Slides and PowerPoint. We will compare their online and offline presenting options for their users.
Keep in mind that in both cases Google Slides or PowerPoint), if the presentation is rich in interactive media and large photos, a slow connection will more likely slow down performance if viewed online.  Whereas when it comes to offline access, we can generally say that most of the time it is available on a limited basis.
Google Slides Performance
Google Slides comes with a predominantly cloud-based app built for seamless online performance. Slides also offer a user experience in the browser that makes online use and collaboration much easier, especially on desktop.
Google Slides has invested in its offline functionality as well, via the Google Slides Offline program, to ensure you a good offline performance.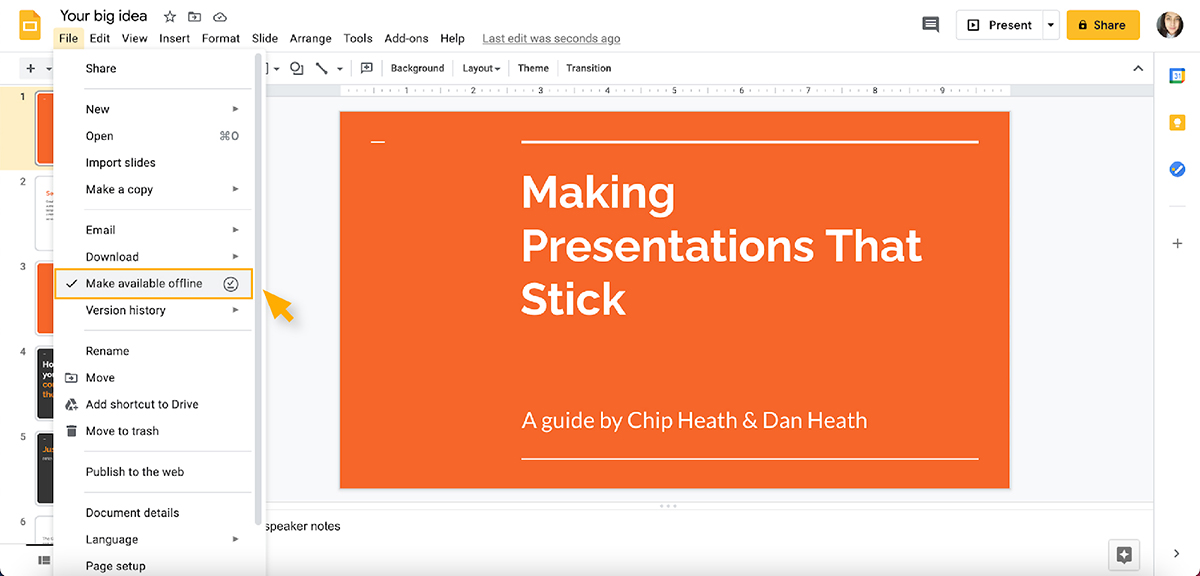 Google Slides Offline can be available in two different ways; via a Chrome browser extension or by using the Chrome operating system. Plus, there is also a Google Drive plug-in for Microsoft Office that allows you to work on PowerPoint online. After finishing your presentation you are able to upload it to Google Drive for collaboration or online sharing.
When it comes to the PowerPoint's performance, Microsoft has its own set of online accessibility options, for example via the Office 365 subscription.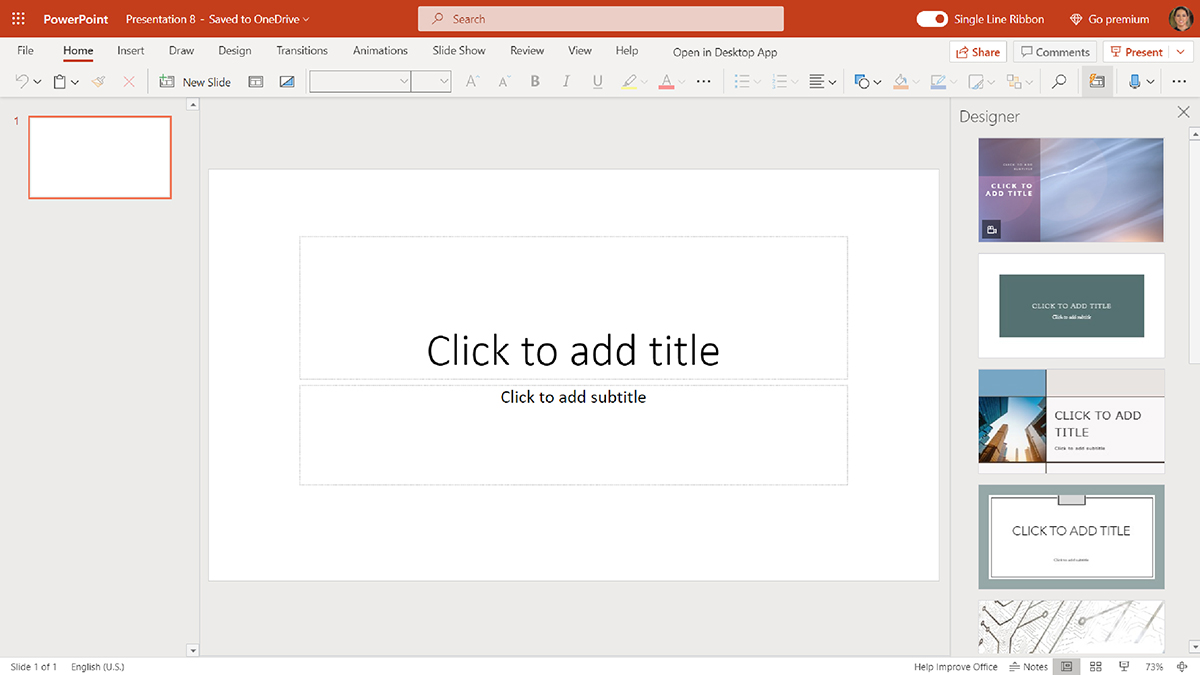 As for the offline performance, PowerPoint provides robust offline apps for experience for desktop users. Unfortunately, the offline experience is not as healthy for smartphones and tablets. The Microsoft PowerPoint mobile apps for Android, iOS and even the Microsoft Surface tablet fall short compared to Google Drive. However, the PowerPoint mobile apps are not as powerful as the desktop version.
Teamwork & Collaboration
Collaboration and the ability to work on presentations as a team is a critical consideration when choosing the best presentation software for you and your company. Let's explore how Google Slides and PowerPoint are organized in terms of teamwork and collaboration.
Google Slides makes flawless collaboration possible between you and your team member. This presentation tool also provides multiple users to make comments and edit the presentation synchronously. Plus, any user can see straight away any changes that are made to the presentation.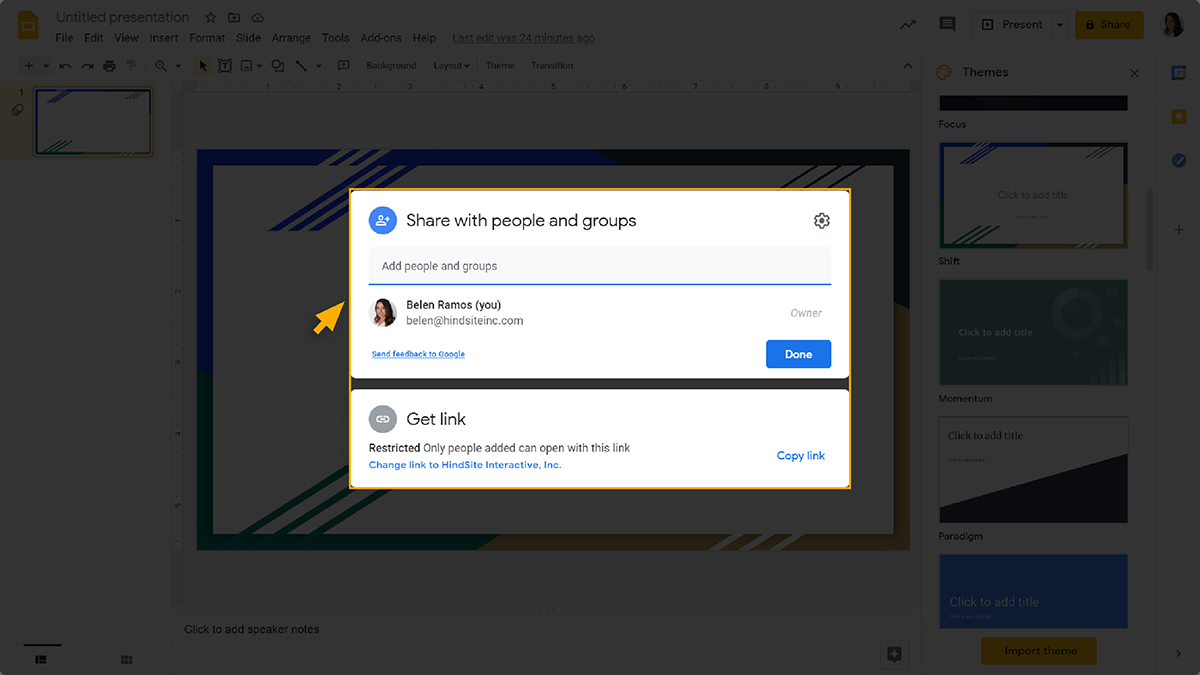 Additionally, it is also easy to restore your previous presentation if you need to return to a preferred version. Each of the team members needs a Google Account to work on the presentation, so they can work all together. To be able to edit and work on the presentation, any collaborator needs to be granted editing rights via their Gmail account. Keep in mind that the original author of the presentation is able to share the project with an unlimited number of users, and any edits on Google Slides presentation occurs in real-time. Collaborators can leave comments as well so everyone can stay on track with each other.
Collaboration on PowerPoint is not as smooth as on Slides, because it needs a bit of preparation. Firstly, a PowerPoint presentation needs to be uploaded to OneDrive or SharePoint Online for Microsoft 365, so it can be editable as a team. After doing that, someone needs to add collaborators via email. From there, users can see when team members log into the presentation to make changes, and they can see their projects as well.
What's interesting here is that even if a team member makes changes while a user isn't logged on, they get notified about that change. It is good to know that PowerPoint comes integrated with OneDrive and has a lot of sharing options such as email, direct link, and social media to SharePoint, as well as Live broadcast of PowerPoint slides via Office Presentation Service. Another way to collaborate with others is using the various online editions of PowerPoint.
Another thing to be considered is that PowerPoint has robust Slideshow mode for presenting any kind of presentations that can be further aided using third-party add-ons like annotations.
Storage & Backup
It takes a lot of work to create a presentation, so the worst thing that can happen to you is losing it after hours or even days of work because of error. To prevent this, Google Slides and PowerPoint have backup features that can help you solve this issue.
If you don't know, every Google Drive account offers up to 15 GB of storage for free. As for the backup options, Google Slides saves all data on their cloud for you. That means you don't need to hit save every few minutes to ensure your work or any change you made is not lost. Another thing that comes to help is Google Slides' history review to explore previous versions of your presentation. With that, you can restore earlier versions of your work if you don't like some of the recent edits you made.
As you probably know, PowerPoint is a primarily desktop-based presentation app, so all your presentation files are stored directly on your PC. Not only that, but you can also take advantage of the Microsoft OneDrive to store your PowerPoint files, which is a cloud storage app similar to Google Drive.
Even so, it requires a Microsoft 365 subscription that comes with a 5GB cloud storage plan for users.
One thing to be aware of PowerPoint is that PowerPoint doesn't offer automatic saving features. You only get them if you have an updated version of PowerPoint and you are a Microsoft Office 365 subscriber.
Embedding
An important thing to keep in mind while selecting a presentation software is embedding media features like video and audio. It is also important to understand how to embed the presentation itself on a web page, in case you need to share your presentation later.
Let's see how Google Slides and PowerPoint compare on this vital feature.
With Google Slides you are able to embed your videos from a YouTube or Google Drive account, but you can't store standalone audio files in your presentation.
One of the advantages of working with Google Slides is how easy it is to work with videos and the fact that you don't need to install any additional software to use video in there. As for uploading static pictures in Slides, you are able to upload your photos from a camera, URL, or your Google Drive, as well as any desktop computer.
When it comes to PowerPoint, the media content is easy to embed into your presentation. You can easily and freely embed both video and audio files in PowerPoint.
Especially, when you add your video or audio content to a One Drive account, embedding content on PowerPoint is really easy.
When you add static pictures into your PowerPoint presentation, you can include also many types of graphics and animations. Plus, if you are an advanced user, PowerPoint gives you the opportunity to draw your own animations. Not only that, but you can also insert a YouTube video by using the online video embed option.
Google Slides or PowerPoint, what should you use?                   
As you can see, both Google Slides and PowerPoint have their own strengths and weaknesses, but you have to choose the software that suits better on your unique needs.
For example, Google Slides is an ideal solution if you are looking for teams working on a presentation together. That's because Google Slides offers real-time collaboration abilities and you can work with all of the team members.
On the other hand, Microsoft PowerPoint is a better fit if you are willing to work offline and want a wide range of customization options even if you don't have internet access.
But, when it comes to choosing between Google Slides and PowerPoint, you have to focus on how you want to design your presentation. It looks like Google Slides and PowerPoint complement each other, as they have the capability and the strengths that the other lacks.
For example, Slides makes it much easier to work across devices like IOS or Android, and other desktop devices. Whereas, Microsoft PowerPoint gives you the ability to do things like embed audio files and even draw animations thanks to the robust desktop solution that comes within it.
Are you looking for the Best Presentation Software?
If you still are not convinced about choosing between Google Slides or PowerPoint, we have an even better option for you. So, if you are looking for the best in both worlds, we highly recommend you Slidesgo.net as it is the most effective tool for any presentation. You can easily create and edit your presentation depending on your needs with our professionally designed templates.
You can also create interactive slide decks with GIFs, maps, charts, popups, external links, voice-overs, as well as YouTube audios and videos. Plus, if you want to store your presentation in the cloud, you can use Google Drive or Dropbox, and other cloud-based systems as well. You can easily download your presentations from Slidesgo.net and create professional presentations for your students, colleagues, friends, etc.
These templates are modern and you can upgrade your presentations. You can choose between a lot of categories like business, education, finance, medical, computer, and many other diagrams and charts. There are also many templates that you can use to engage your students or the little ones that include fun games and activities. The templates in Slidesgo.net are customizable and you can easily edit them for your next PowerPoint and Google Slides presentations.